Reasons to Choose Us
ONE STOP SHOP
Your time and energy are not wasted dealing with the communication hassles and delays of several different contractors and suppliers, because you are dealing with a one stop supply and installation service for Tile, Stone, Underfloor heating, Waterproofing, Substrate preparation and Maintenance.
STRIKING RESULTS
You can relax and have confidence that our honest, reliable knowledge and advice results in a superior quality finish that will last for years to come.
EXCELLENT RESOURCE
You have an excellent resource to utilize in our service, as you benefit directly from New Zealand's leading Wholesalers and Importers along with our creative colour, design and technical expertise.
See More Reasons >>
Kitchens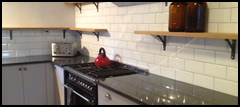 Patios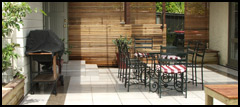 Visit Our Project Gallery >>
What Our Clients Say
Duane Harley has been our tiler for the past six years contracted to do a full supply and lay service. Duane's approach to his work and our clients has been of the highest standard. His workmanship is of a very high level with Homeworx Design & build ltd being most happy along with all of our customers.
- Nick Meechan
Homeworx Design & Build ltd
We engaged Tile Technix to prepare and lay Portuguese limestone floor tiles which covered a large area of the house as well as bathrooms. In addition to this we had two different types of mosaic tiles which were used on the walls and around the master bath. In all areas of their work we found Duane, Jae and Matt to be excellent. Not only in their professional expertise, but in their approach to their work, and later on for follow-though service and advice on maintenance etc. We would highly recommend Tile Technix.
- Diana Newcomb
Duck Creek Enterprises Ltd
Read More >>